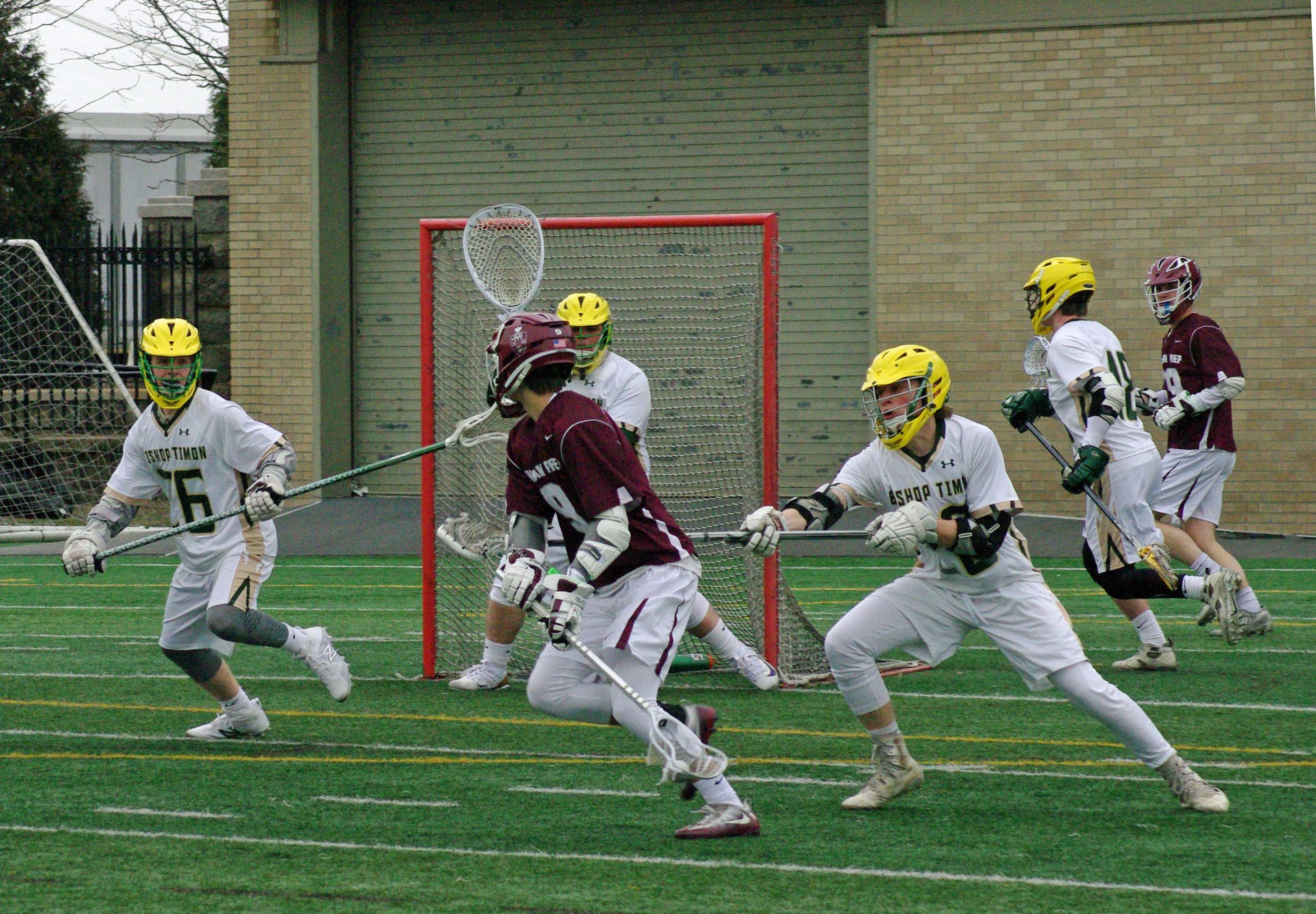 The Fordham Prep varsity lacrosse team began its season last week with two impressive home wins over Bishop Timon – St. Jude (Buffalo) and Rye Country Day School. The Rams dominated the games, executing on both sides of the field while tallying a total of 29 goals and only allowing 5. The 29 goals are the most the team has notched in back to back games since it scored 36 versus Cardinal Spellman and Mt. Saint Michael in 2016. Congratulations to several Rams who registered the first points of their varsity careers: Daniel Almeida '18 (White Plains), James Cunningham '19 (Larchmont), Christopher Eagan '18 (Rye), Quinn English '19 (Port Chester), Hugh O'Driscoll '18 (Manhattan), and Brendan Sowarby '19 (Manhattan).
Also this week the Prep took the #8 slot in the first installment of the Lohud.com Boys Lacrosse Power Rankings. Four of the other nine teams to make the list are on the Rams' schedule (John Jay, Iona Prep, Rye, Stepinac). Additionally, Thomas Marra '18 (Irvington) and James Corasaniti '18 (Manhattan) made the Lohud.com Boys Lacrosse Preseason Watch List.
Looking ahead, the Rams hit the road this week for their first away games. On Thursday 4/5 they face off against St. John the Baptist, who are currently 0 - 1 coming off a 15 – 3 loss to Chaminade. The Prep defeated the Cougars in their opener last year 13 – 2. On Saturday 4/7 the team looks to avenge its 2017 season ending 6 - 5 loss to Kellenberg in the CHSAA downstate semi-finals. The Prep had beaten Kellenberg 6 – 4 earlier in the 2017 regular season. The Firebirds enter the game 2 -1 with wins over Stepinac and Bishop Timon – St. Jude.

 
Bishop Timon – St. Jude Recap (W 15 - 3)

Fordham Prep came out of the gate quickly to start the game opening with an 8 -0 run and a 13 -1 halftime lead. Brendan Sowarby '19 scored the first goal of the season in the opening minutes of the contest. It was Brendan's first goal as a member of the varsity and he would go on record a total of 4 goals for the day. James Murray '18 (Larchmont) also contributed a "Texas Hat Trick", all registered in the 3rd quarter. Edward Madden '18 (Crestwood) scored 3 goals, Thomas Marra 2, and Jack Dougherty '18 (Manhattan) also contributed a goal. Goaltenders James Corasaniti '18 and Will Rice '20 (New Rochelle) were solid in net. Led by Stephen Zupicich '19 (Bronxville) and Mike Bugniazet '18 (Harrison), the team played intense defense causing scores of turnovers and winning over 70% of groundballs.

Stat Line: Murray '18 4G/3A, Thomas Marra '18 2G/3A, Sowarby '19 4G, Madden '18 3G/1A, Dougherty '18 1G, English '19 1G, Cunningham '19 1A, Almeida '18 1A, O'Driscoll '18 1A, Corasaniti '18 3 saves, Rice '20 2 saves

Rye Country Day School (W 14 - 2)

Fordham Prep had another dominant showing versus Rye Country Day School with the team starting early again by scoring the first 7 goals. James Murray '18 started things off with a goal off a Thomas Marra '18 assist. Then Murray got into the assist business by tallying one to Edward Madden '18, who found the back of the net. Marra then got going with a goal with an assist from Stephen Zupicich '19. Marra proceeded to go on a tear netting 6 goals and 2 assists for the game. Once again ground balls were dominated by the Rams as the defense caused a steady string of turnovers and won the majority of groundball opportunities. Keepers James Corasaniti '18 and Will Rice '20 put up a combined save percentage of 80%.

Stat Line: Marra '18 6G/2A, Murray 2G/1A, Dougherty '18 2G, Sowarby '19 1G/1A, Madden '18 1G,English '19 1G, Eagan '18 1G, Corasaniti '18 5 saves, Rice '20 3 saves