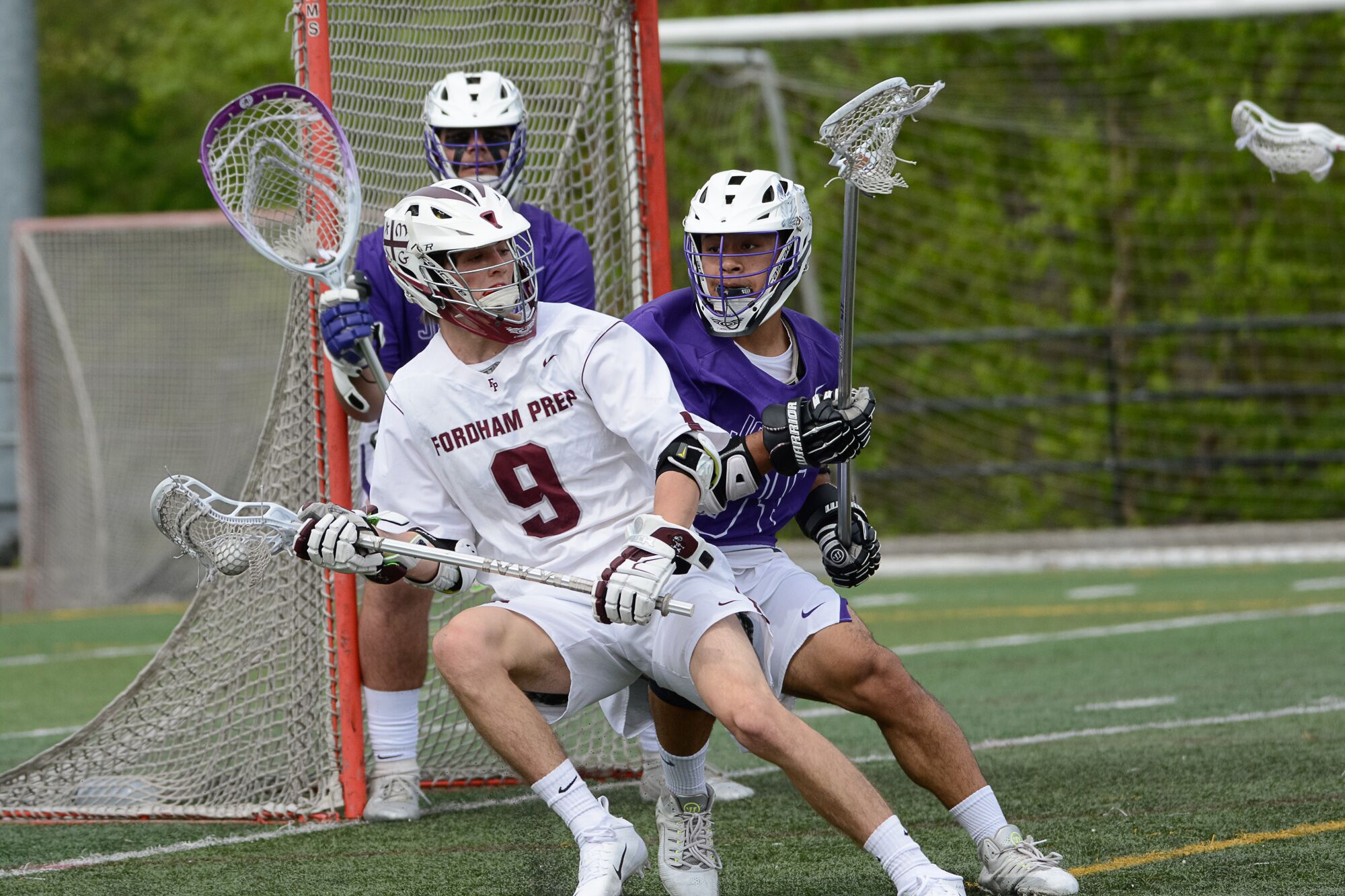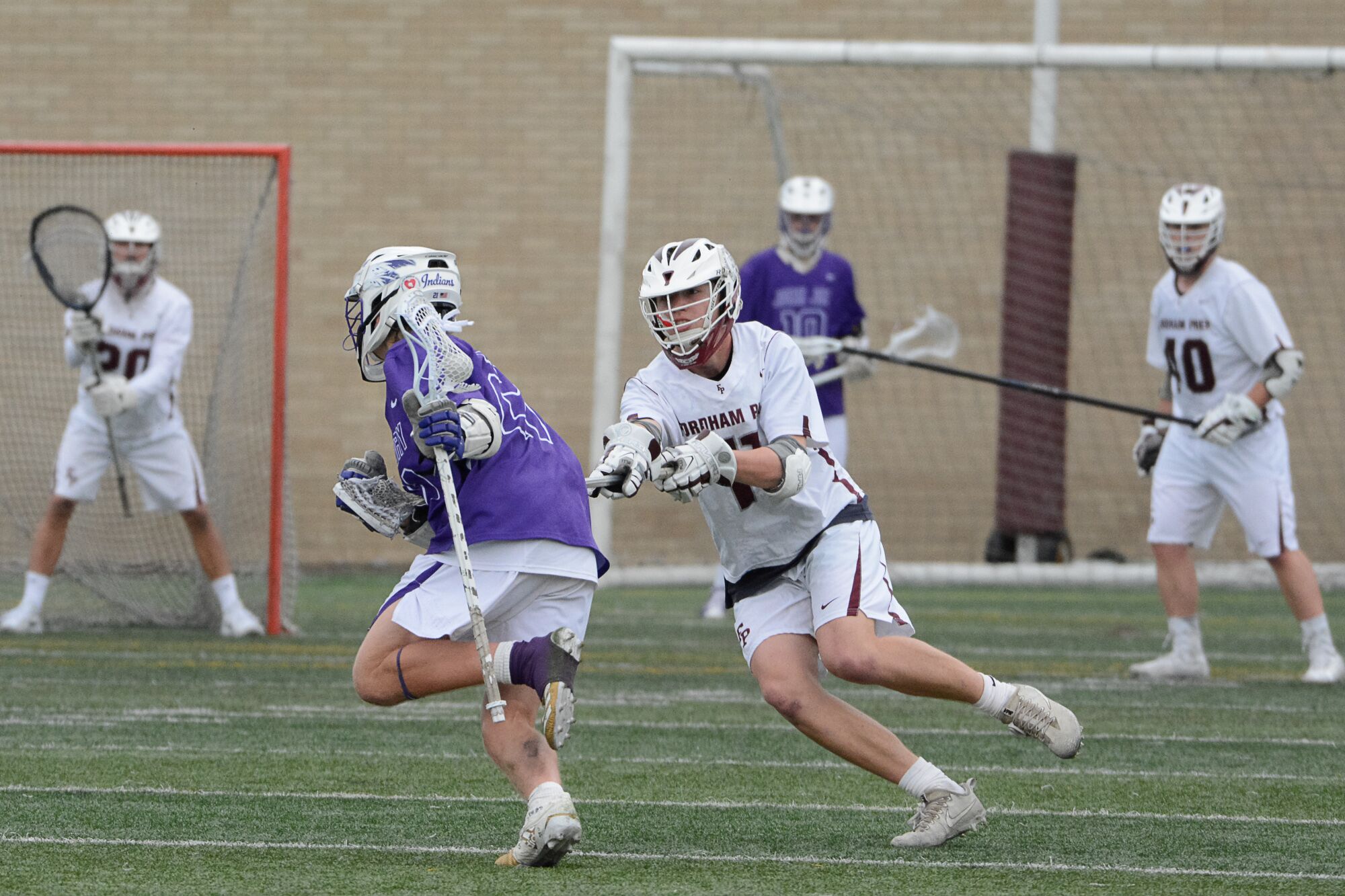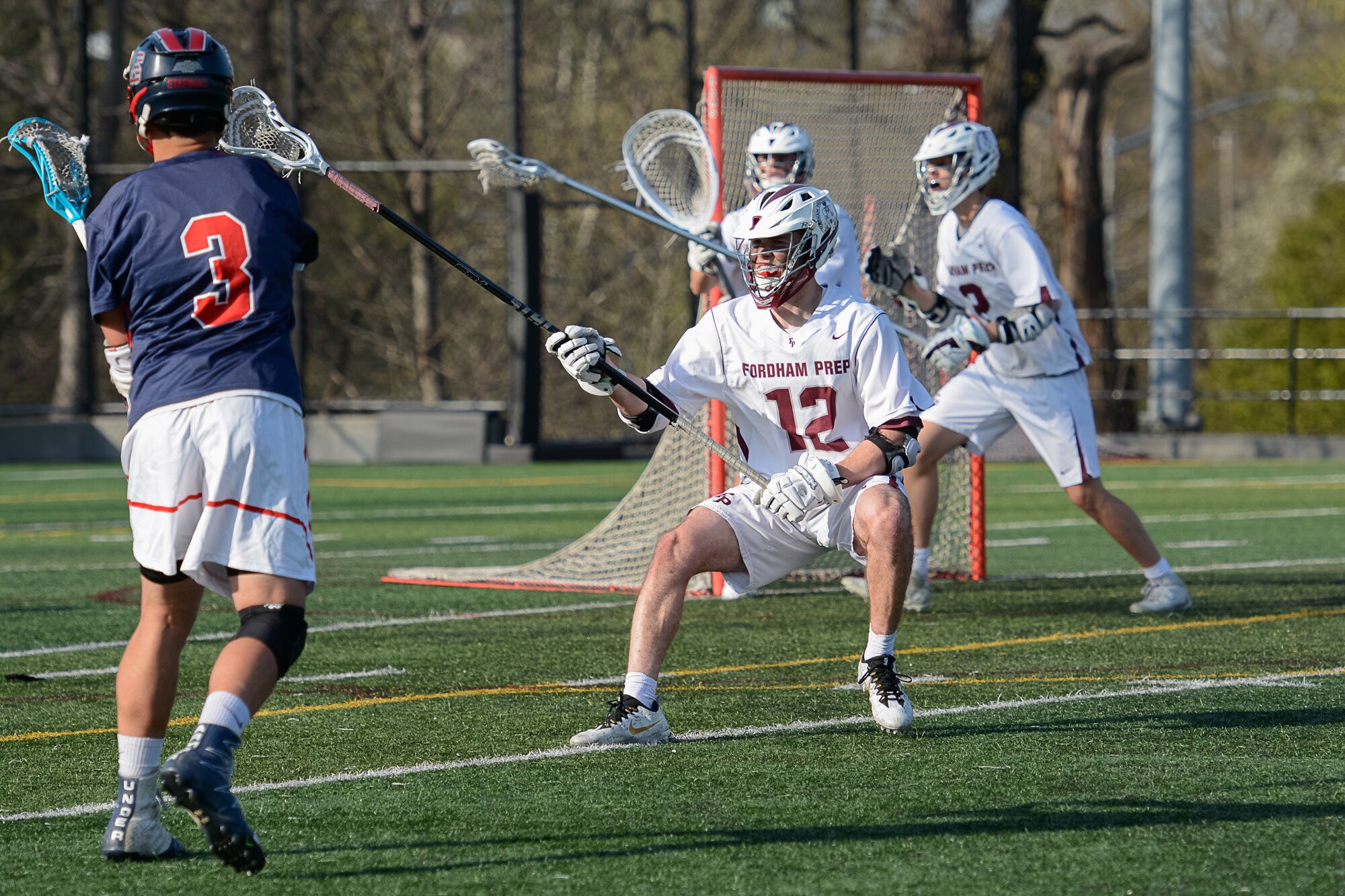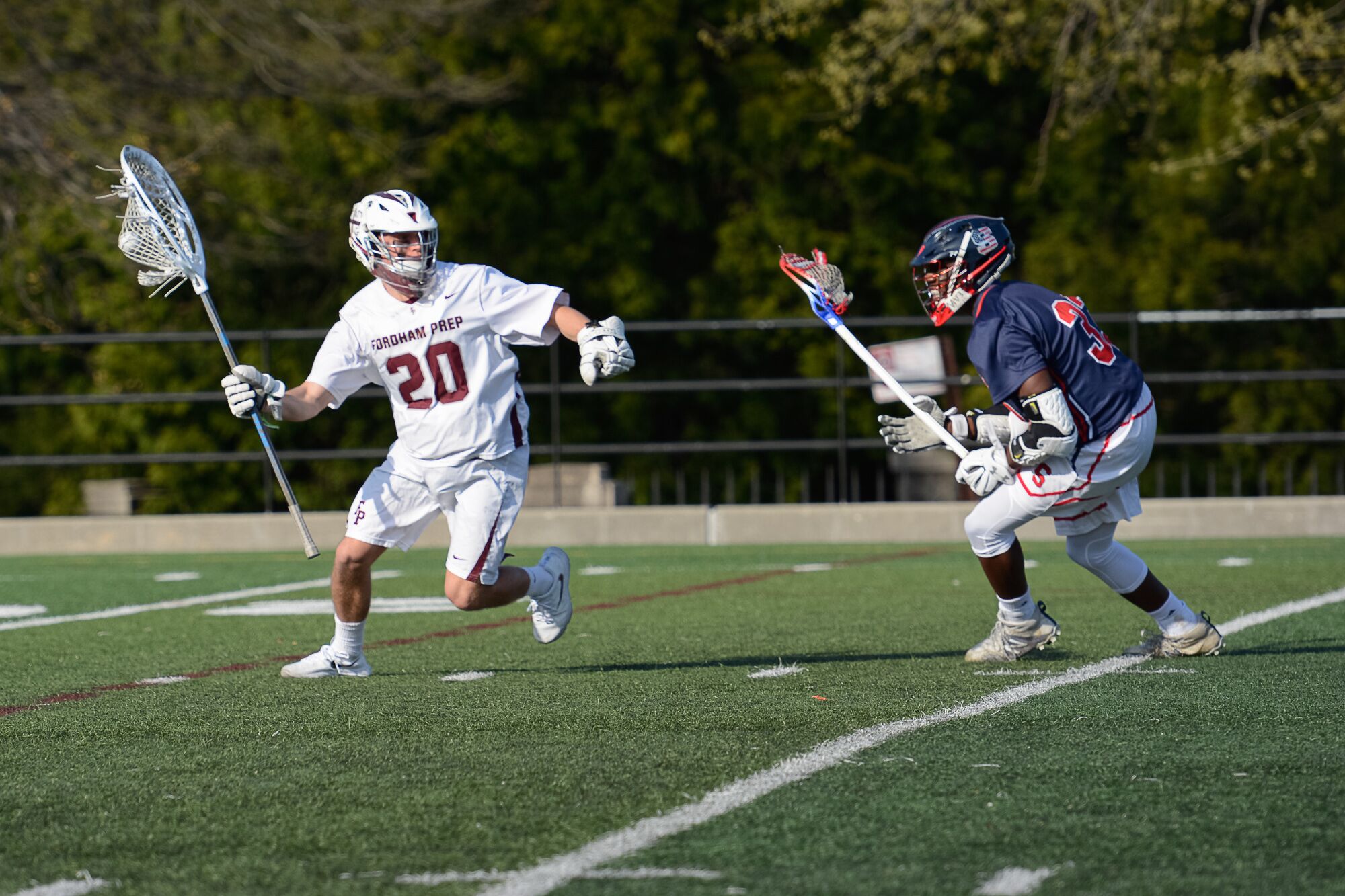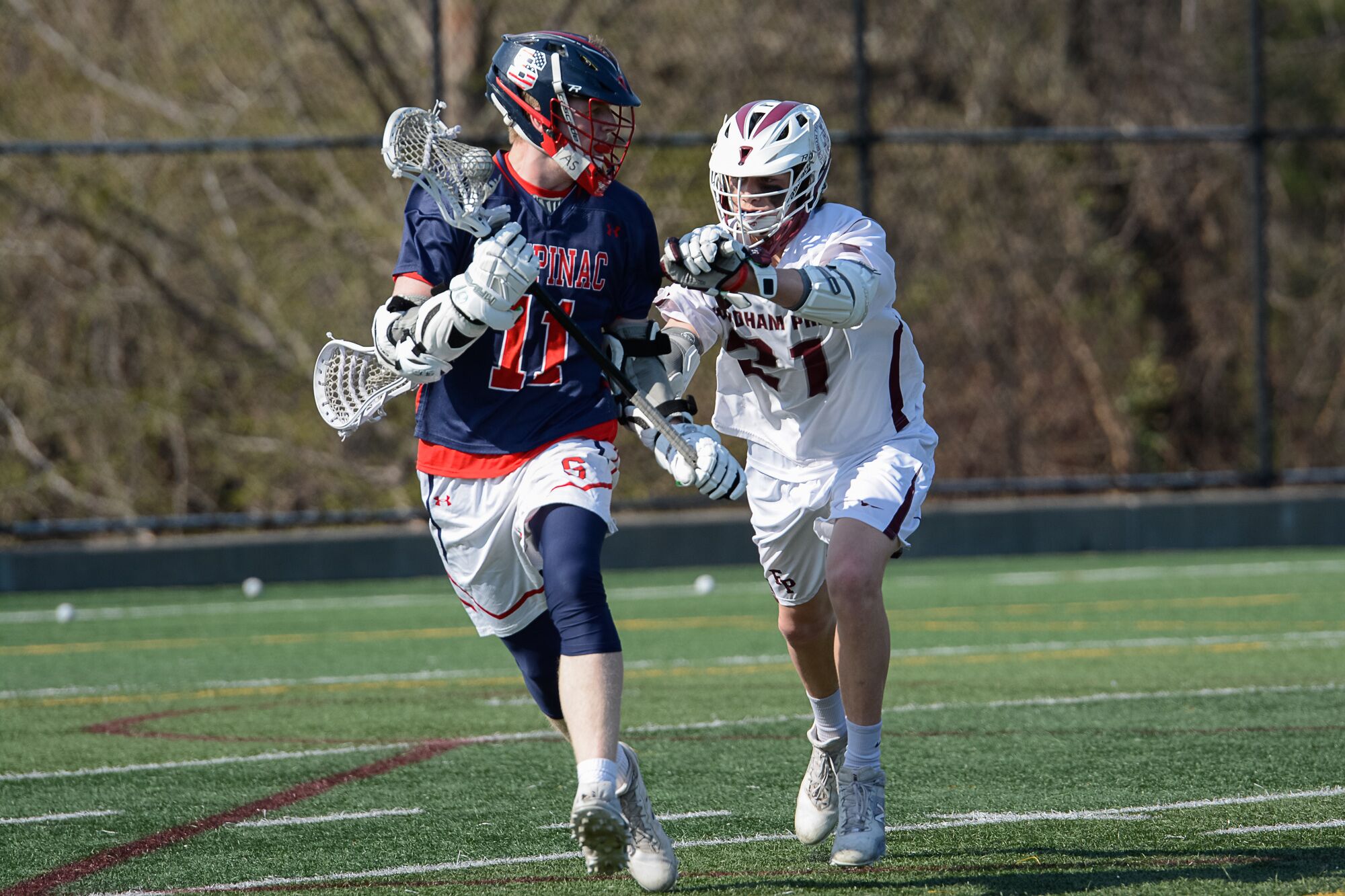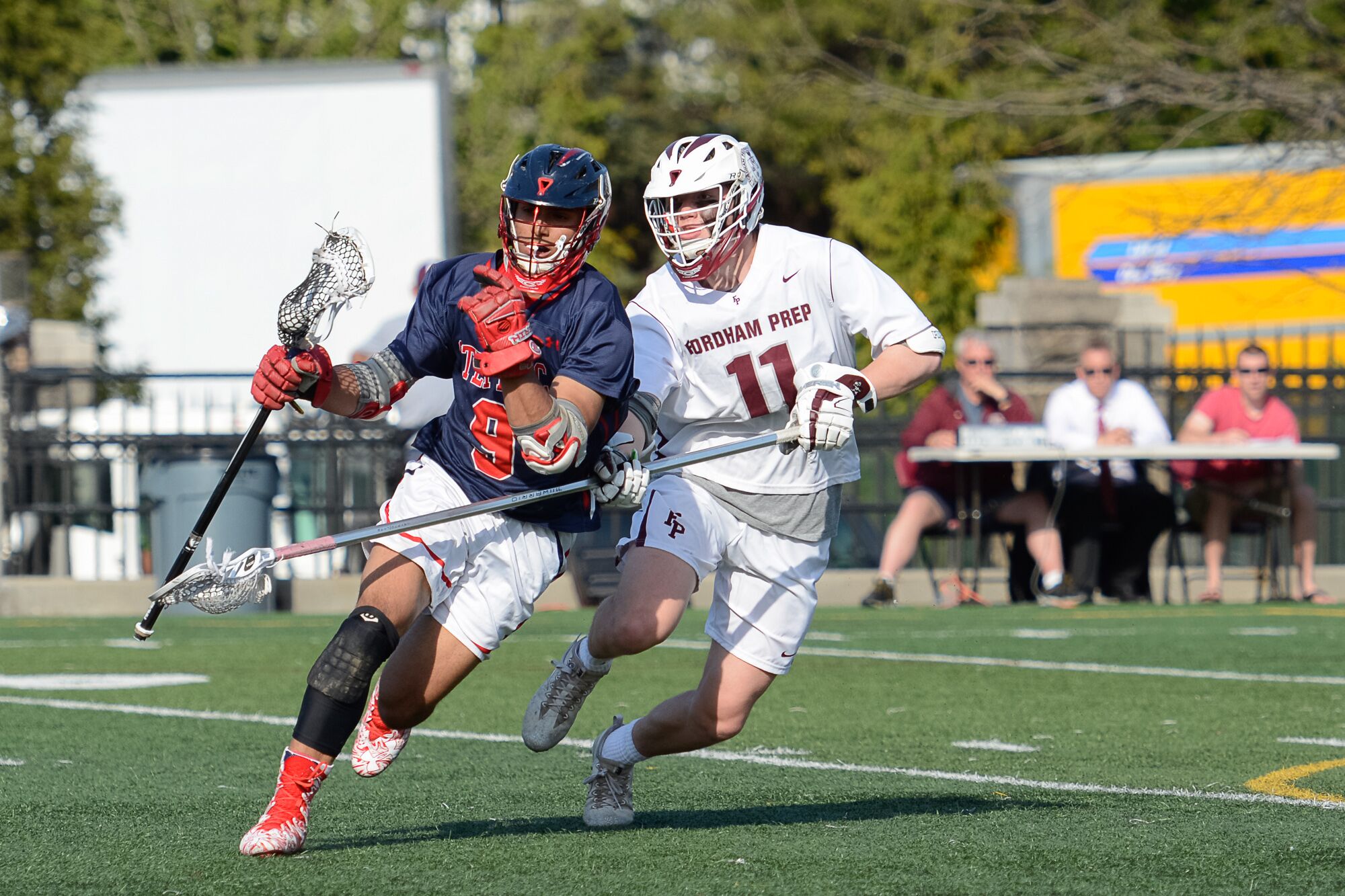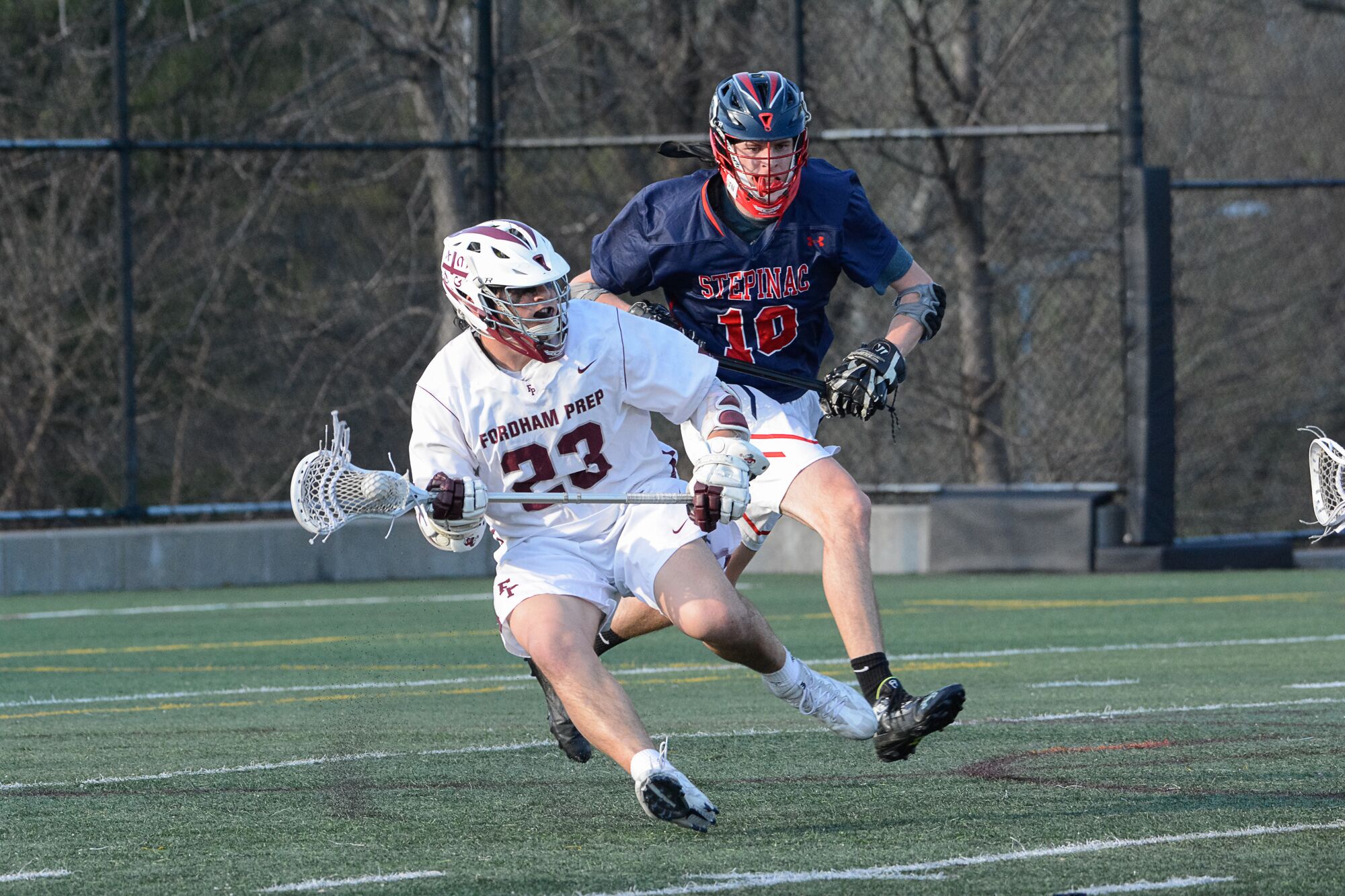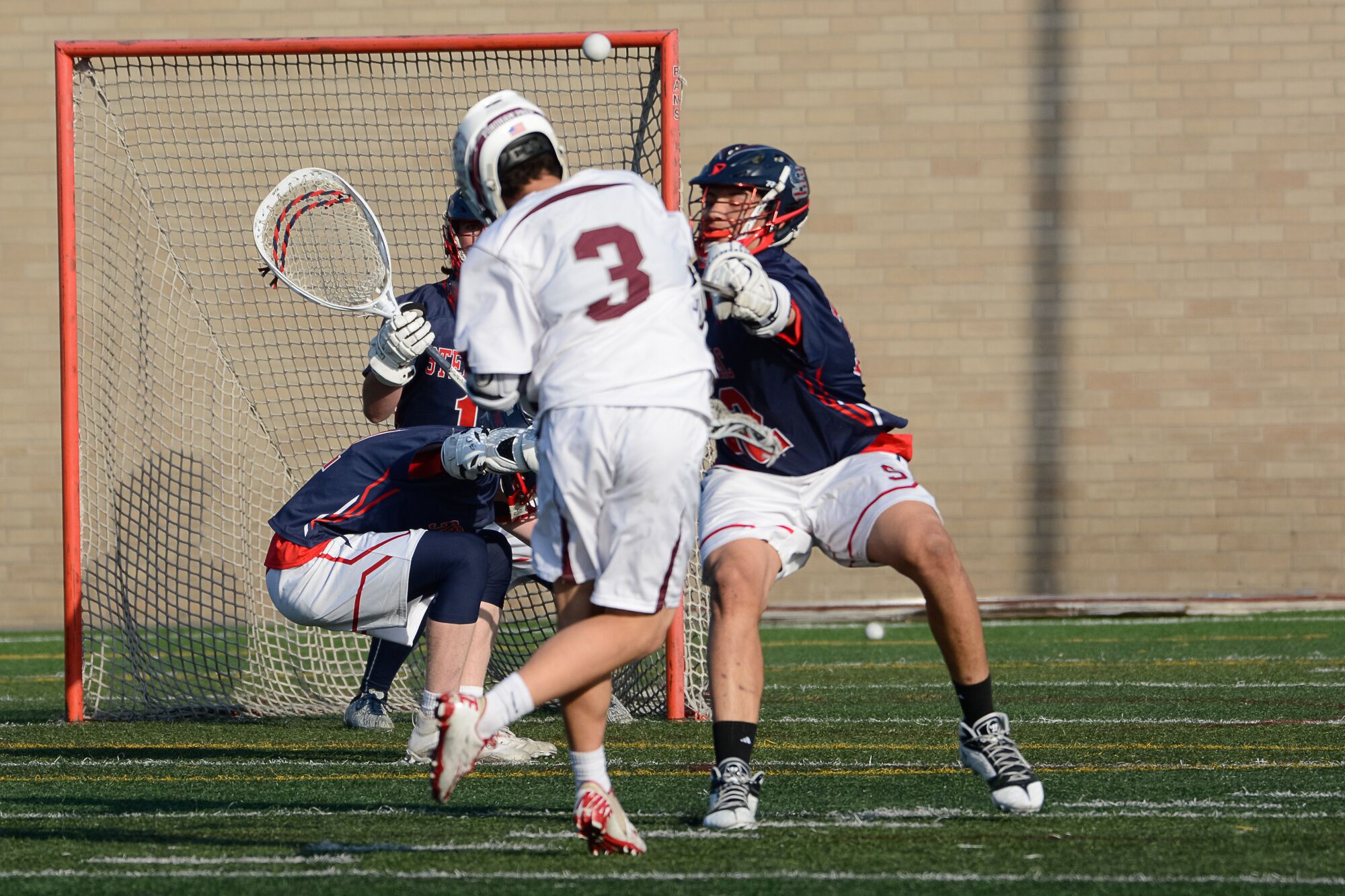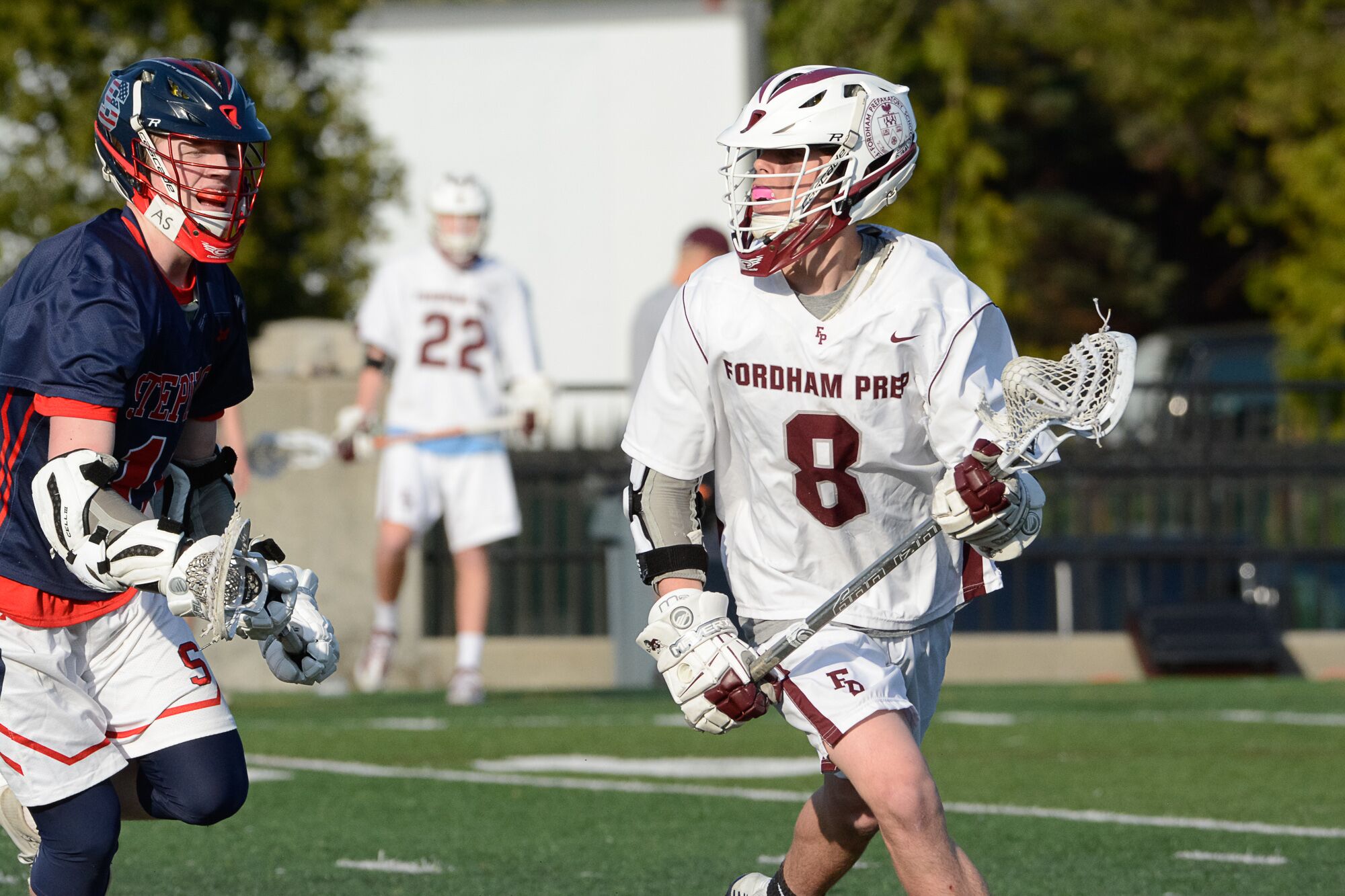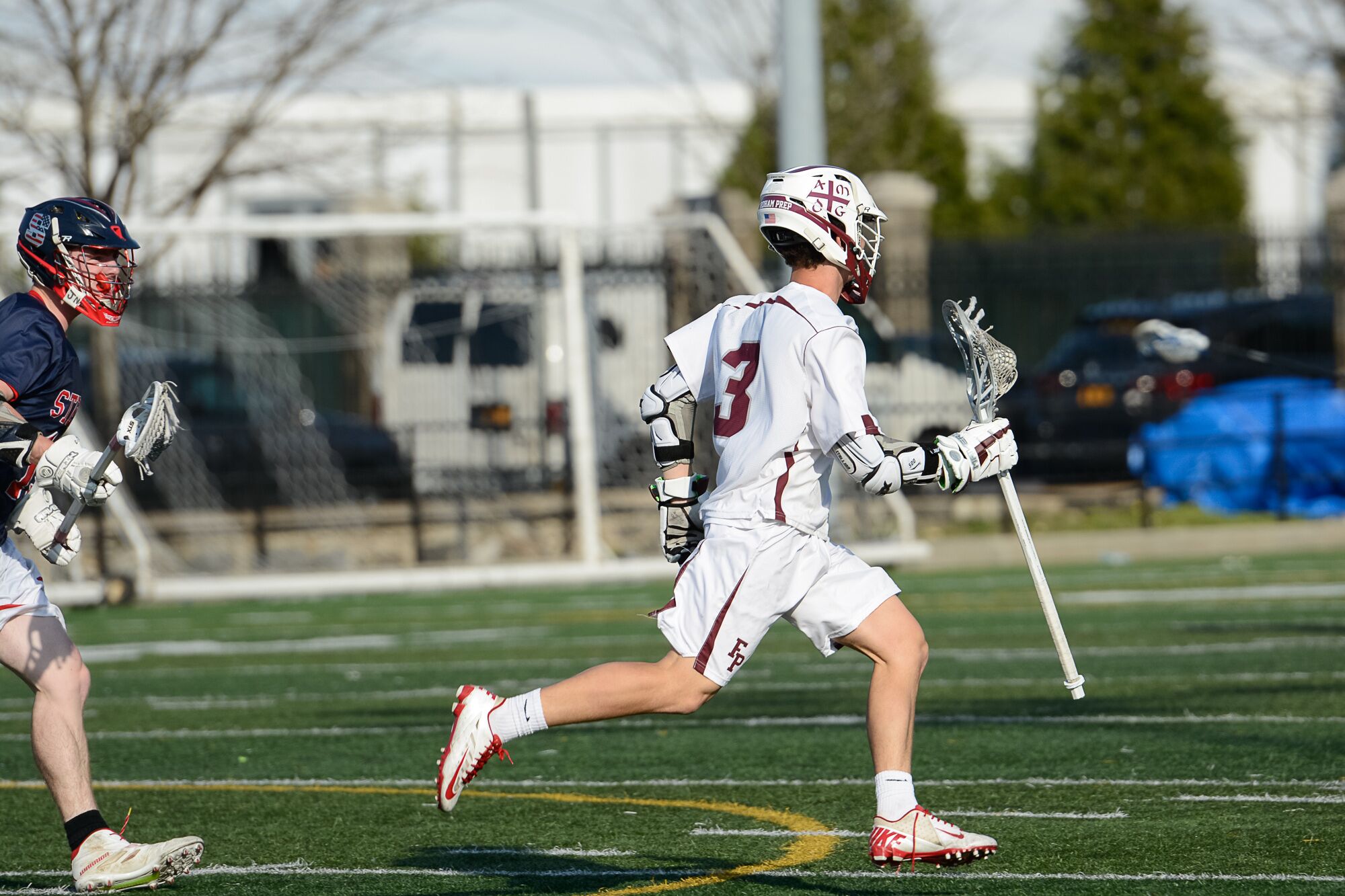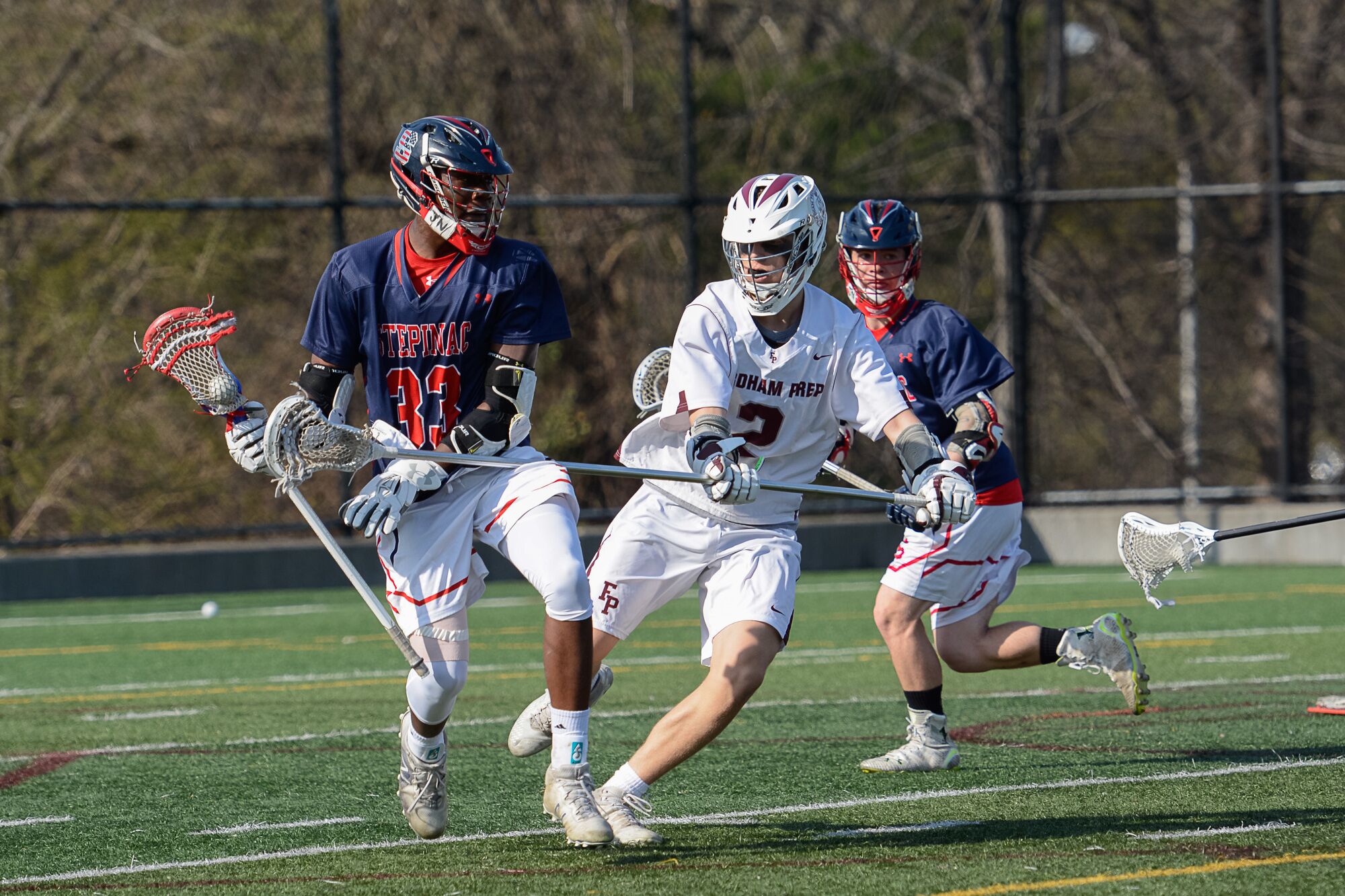 If the Stepinac win on Tuesday was a statement, the win against John Jay - Cross River was seven exclamation points to end that statement. The Rams upset John Jay at home 6 - 4 Saturday afternoon in what was one of the biggest wins in program history. The Indians came into this game ranked #2 in the Westchester County area by Lohud and #35 nationally by Laxpower. This was a big win for the Rams as they begin to hit their stride headed into post-season. With the Stepinac win, the Rams secure home field advantage and a first round bye for the City Championship playoffs.
The Rams have a busy early part of this week with back to back games tomorrow and Tuesday versus Bronxville and Bergen Catholic (NJ). Bronxville sports an overall 7 - 6 record facing the usual Section 1 opponents and a 10 - 5 loss to Iona Prep. The Broncos have gotten the better of the Prep the past two years including a double overtime win over the Rams last year. This will be the first ever meeting between Fordham Prep and Bergen Catholic (5 - 8) who play a tough schedule of mostly NJ public and private schools. They do have one common opponent with the Rams, losing to Iona Prep 6 - 4 back in April.
Congratulations to Edward Madden '18 (Crestwood) who registered the 50th point of his career and Thomas Marra '18 (Irvington) who registered his 50th point of this season, both versus Stepinac.


John Jay - Cross River Recap: (W 6 - 4)

Once again, a very balanced performance from the entire team with the defense putting in their best performance of the season in this matchup. Scoring came early for the Rams as Jack Dougherty '18 (Manhattan) netted his first goal to start the first quarter. He was followed shortly thereafter by Thomas Marra '18 who took the score to 2 - 0.
Being in a hole, John Jay's offense awakened, however, the Rams' defense and keeper stymied their efforts. The Prep was up 2 - 1 at halftime after James Corasaniti '18 (Manhattan) made seven saves in the first half.
The score was knotted up at 2 - 2 shortly into the second half but the Rams responded with a Thomas Marra '18 from Edward Madden '18 goal to make it 3 - 2. Jack Dougherty '18 then scored his second in a man up situation for the Prep. Edward Madden '18 netted a goal from the left side with three successive bull dodges to take the score to 5 - 3 at the end of the third quarter.
Thomas Marra '18 put some real daylight between the Rams and Indians with a goal to start the fourth quarter to get the score to 6 - 3. The fourth quarter was peppered with flags, however, despite several man down situations for the Rams they only let one in to get the score to 6 - 4 , which was the final.
This big upset was highlighted by James Corasaniti '18's goaltending with 15 saves for a 79% save percentage, as well as the groundball creation and pick up by all the defenders - Ethan Tym '19 (New Rochelle), Patrick McAllister '19 (Manhattan), Stephen Zupicich '19, and Michael Bugniazet '18 (Harrison).

Stat Line: Marra '18 3G/1A, Dougherty '18 2G, Madden '18 1G/1A, Corasaniti '18 15 saves

Stepinac Recap: (W 13 - 5)

In what was only the fourth home game of the season, the Rams dominated Stepinac in what was also a balanced performance from the entire team. Stephen Zupicich '19 was brilliant at faceoffs, ceding the clamp but creating instant turnovers 65% of the time.
Early in the first quarter, the Rams went man up due to what was a theme throughout the game, several soft flags against both teams. Thomas Marra '18 netted his first of five goals in this opening man-up set while Jack Dougherty '18 followed shortly with his signature right alley dodge. In the closing minutes of the quarter James Murray '18 scored the first of his four goals on a feed from Edward Madden '18. The Prep led 3 - 0 after one quarter.
The second quarter was a continuation of the first with dominance in ground ball play and high quality shooting. Late in the second quarter Stepinac scored twice during a two minute non-releasable penalty, but trailed 7 - 3 at the half.
The second half was even more dominant for the Rams. Edward Madden '18 was feeding James Murray '18 on the crease like an Italian grandmother. Once again it was fabulous to see Ryan Gilchrist '18 (Crestwood) come off the early season DL to notch two goals and an assist. James Corasaniti '18 put up his best showing of the season with 16 saves and a 76% save ratio. The defense made his job easier by keeping the shooters at a distance. The one key the team has to improve upon in the remaining two regular season games is its clearing game.

Stat Line: Marra '18 5G/1A, Murray '18 4G/1A, Gilchrist '18 2G/1A, Madden 1G/2A, Dougherty '18 1G, Coyne '18 1A, English '19 1A, Corasaniti '18 16 saves